Hair transplant treatment for women
Hair transplant treatment for women
Hair loss in women and hair transplant treatment in women
How the hair looks, as well as the clothes and make-up, is very important for women. Women who value their hair may sometimes encounter the problem of hair loss.
However, hair loss and thinning of hair can be seen in women as well as in men. Factors such as poor living conditions, stress, malnutrition, and sleep disorders affect hair health negatively. In addition, genetic factors, gynecological diseases, hormonal changes, pregnancy are also seen to cause the hair to lose its strength.
Women who apply to the doctor with the complaint of hair loss can have healthy hair as a result of various treatments. However, these treatments are sometimes not effective. Women who cannot find a solution to hair loss can go to hair transplant clinics to have healthy hair. Successful results can be seen with the hair transplant method in women.
Causes of hair loss in women and can women have hair transplant?
Having full and beautiful hair is the biggest dream of every woman. However, due to some problems, hair loss and thinning of the hair may not occur. We can say that hair loss is one of the problems that negatively affect women and men in terms of aesthetic appearance.
Hair loss, which is prominent in men, is also experienced in women. We can say that the causes of hair loss in women are permanent or temporary. Many factors are an important factor in hair loss. The answer to the question of what causes excessive hair loss in women is being investigated by people suffering from hair loss. In addition, if we list the causes of hair loss in women;
It occurs due to hormones. Hair thinning, shedding and eventually baldness are experienced. You should know that genetic factors have an effect on this disorder, which is transmitted by genes.
Baldness may occur later or be terminated in people who start treatment early.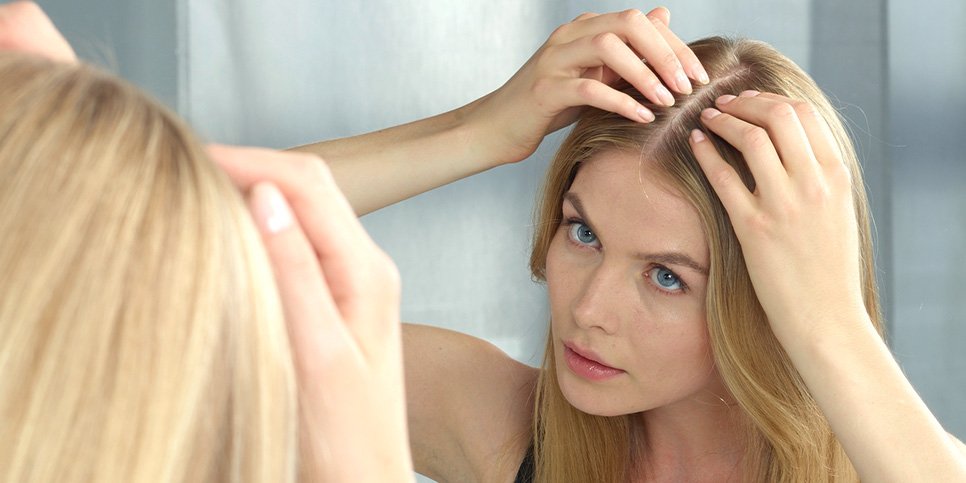 Especially estrogen, progesterone, corticosteroids, thyroid hormones are seen as effective hormones on hair tissue in women. Disorders and irregularities in these hormones can be among the causes of hair loss in women.
Pregnancy, menopause, menstrual irregularities also have negative effects on hair health. Hair loss may also occur after childbirth.
Systemic Diseases and Skin Diseases: Chronic and systemic skin diseases that affect the skin tissue such as thyroid diseases, diabetes mellitus, syphilis, celiac disease, systemic lupus erythematosus, scleroderma can also affect the scalp and cause hair loss. If you have such diseases, it is important that you seek immediate treatment.

Medicines for some blood pressure, epilepsy, diabetes, thyroid and similar diseases may have many side effects apart from their benefits. These drugs appear to have negative effects on the scalp and hair growth. Hair loss may occur due to drugs. If you have a complaint of hair loss, you should know that you can switch to a different drug by checking the drugs you use by your doctor.
Microorganisms such as fungi and parasites are seen to cause infection on the scalp. These infections can cause damage to the scalp and lead to hair loss. Late detection of infections can increase the severity of hair loss and lead to regional hair loss and baldness.
The use of chemical substances in the hair tissue, excessive use of hair care products, uncontrolled use of hair dye cause damage to the scalp. In addition, hair loss and breakage can be seen in women.
In addition, vitamin A, vitamin B, vitamin D, zinc, iron and all other vitamins and minerals are effective on hair tissue health. Apart from the foods you consume, it is important to take care of getting enough vitamins and minerals in the body.
In fact, it is known that hair loss is seriously increased in women who go to the hairdresser frequently with the thought of having more beautiful hair and have procedures such as blow dryers, waves and curling irons.
You should know that using hair styling tools such as hair dryer and hair straightener at high temperatures is also harmful for hair health.
One of the biggest factors is that psychological disorders such as stress, anxiety and depression damage the hair structure in a bad way. New hair tissue production may not be experienced due to stress. Thus, it is seen that hair loss increases.
It is seen that having regular sleep is necessary for a healthy life. Irregular sleep hours, sleeplessness problems can negatively affect health and cause hair loss. It is important to have a sleep pattern for healthy hair.
Inadequate and malnutrition is seen to have negative effects on the intake of vitamins and minerals in the body. Women with malnutrition may experience thinning of the hair strands and excessive hair loss due to the deficiency of various vitamins. You need to consume antioxidant-containing foods such as vegetables and fruits frequently in your diet.